STATION 420
STATION 420
Retail Recreational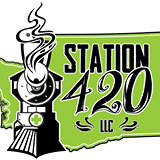 Station 420 is recreational marijuana retailer located in the heart of Yakima Valley. With the widest selection in Central Washington, you are sure to find something that fills your needs and desires. Our outstanding staff strives to treat each customer who walks through our door as though they were family. We welcome you! There is NO medical card required for purchase. We have medical consultant on site ready to help you! If you need a card, bring your license and authorization card with you and we'll get you started. Already have a card? We're here to help you find the best product for your needs. Station 420 LLC is a cash business only, there is an ATM available on site.


Hours of Operation
Monday: 9:00 AM - 9:00 PM
Tuesday: 9:00 AM - 9:00 PM
Wednesday: 9:00 AM - 9:00 PM
Thursday: 9:00 AM - 9:00 PM
Friday: 9:00 AM - 9:00 PM
Saturday: 9:00 AM - 9:00 PM
Sunday: 10:00 AM - 6:00 PM


Leave a Review
Shop CBD, THC & Other Cannabinoids Now
RSS Error: A feed could not be found at `https://shop.kush.com/shop/feed`. This does not appear to be a valid RSS or Atom feed.