BUD NATION
BUD NATION
Retail Recreational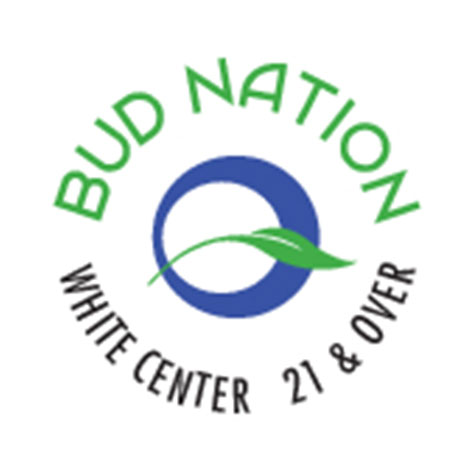 Our Vision is to enhance and provide quality products, knowledge and service to our Bud Nation of cannabis consumers. To foster community growth by actively contributing leadership and vision. Situated in the heart of beautiful White Center in Seattle, Washington. Best-in-class budtenders with an extensive background in the cannabis community. We cater to experienced enthusiasts and first-timers alike. Constantly evolving, diverse menu from local producers. Wide range of cannabis products, glass and accessories. Stay Lifted! Located in the heart of White Center, Just off I-509. We're half-way between SeaTac Airport and downtown Seattle. Proudly serving White Center, West Seattle, South Park, Burien, SeaTac, and Tukwila. We offer free customer parking every day in our private parking lot. Enter lot from Roxbury Street @ 15th Avenue SW. Lot is on the right-hand side of the street. You can access the shop, which is on the ground floor, thru the back iron gate! Ring the bell!


Hours of Operation
Monday: 8:00 AM - 11:45 PM
Tuesday: 8:00 AM - 11:45 PM
Wednesday: 8:00 AM - 11:45 PM
Thursday: 8:00 AM - 11:45 PM
Friday: 8:00 AM - 11:45 PM
Saturday: 8:00 AM - 11:45 PM
Sunday: 9:00 AM - 11:45 PM

Reviews
Very unfriendly and intimidating. Poor selection. Extreamly over priced and just an all in all bad experience. Felt like I was in high school all over again, getting ripped off by my "friendly local weed dealer". But unlike in high school I have tons of other places to go, so I won't be returning here again. Save yourself the trip and try one of the other better operated rec shops.
1 out of 5 stars
They were having a sale so the price was reasonable. The dude at the door seemed a bit abrasive a first but he was very nice
4 out of 5 stars
Great selection - knowledgeable, friendly staff - more options than I expected for vendors - strains. Decent selection of edibles and infused drinks! Selections go fast, always fun to check back and see what the latest items are!
5 out of 5 stars
I have two stores closer to my house in whitecenter but Im glad I decided to check this one out on the 16th strip by the market. The selection was much bigger than Im used to seeing, and prices were about the same tho. Picked up some durban poison and a couple of prerolls. The prerolls came in this pretty sweet box of two and was only $10 for like almost 2 grams. The durban poison was some straight fire, dense nugs broke down real nice. Ill probably be a regular here, especvially since there are so many things I havent even tried, like edibles. Who knew that you could get high off tea you brew yourself at home??? Crazy, crazy good. Ill definitely be back tomorrow.
By
Anjanette
on
2015-11-21
4 out of 5 stars
Prices could always be better but I like the people, the selection, and the atmosphere. $34 eighths of some prime fire isn't bad though! AND I get 20% off every 10th purchase!!!
4 out of 5 stars
awesome
By
rick garcia
on
2016-05-15
5 out of 5 stars
See all 6 Reviews
Leave a Review